Home
About Us
Contact Us
2021 Huntersville NC Deck Builders FREE Quote Call ☎ Today!!! We Can Design & Construct ANY kind of Huntersville Deck You Want Trex, Treated, Wood, Cedar, Composite, Redwood, Pine, Timber Tech Azek, Evergrain Huntersville NC Deck Contractors Replace Deck Boards.
Install/Build ➨ Huntersville NC»» Deck Builder FREE Quote ➨ Call NOW 24x7 Custom Huntersville NC»» Deck Builders ➨ & Cost Huntersville NC»» Decks Contractors Add On Extend Huntersville NC»» Deck Above Ground Pool Spa Huntersville NC»» Hot Tub Wood Trex Huntersville NC»» Deck Remodel/Repair Huntersville NC»» Deck Board Replace Railing Build Deck Stairs Steps Huntersville NC»» Treated , Cedar, Redwood, Pine, Timber Tech, Azek Evergrain . Huntersville NC»» Stain and Seal Deck. Huntersville NC»» Composite Decks
Huntersville NC Deck Builders 2021
~Deck Face Lifts~
With only a limited time to enjoy your space every year, we want to make sure that you are spending your summer grilling and relaxing, not staining and re-finishing your Huntersville NC deck. Talk to our expert Designer today about how you can give your old Huntersville NC deck a Face Lift. By simply removing the existing decking and railing and applying new maintenance free decking and railing to your old frame (your frame will be inspected by Designer Properties to insure that it is up to local and state building codes and is eligible for this type of alteration), we can have your Huntersville NC deck looking great and ready for you to enjoy!
~Hot Tub Decks and Pool Decks~
Build a beautiful deck surrounding and showcasing your Huntersville NC pool or hot tub, or insert a drop down hot tub for easier access. We can create a one-of-a-kind surrounding for your Huntersville NC pool or hot tub, adding to the relaxation of your hot tubbing or swimming experience. Designer Properties is a Huntersville NC hot tub deck and pool deck expert.
Ipe (aka Ironwood, Brazilian Walnut, Pao Lope)

Ipe(pronounced ee-pay) is one of the densest and hardest woods available. It makes an extremely durable and beautiful deck. Ipe can be left to weather on its own to a lustrous silver-gray or it can be sealed to keep its rich color. it is so resistant to weather and traffic.
Clear

Cedar D Select cedar offers a stunning and virtually knot-free surface. It can be left alone and will weather to a soft gray over a period of years. It can also be treated to maintain is beautiful original color. D cedar is very soft underfoot. While this makes for a comfortable surface, it is not as durable as the other woods. If the deck is to have heavy traffic, Ipe (which is similarly priced) should be considered.
Mahogany

The look of mahogany decking is absolutely astounding. It has no knots and an extremely rich color. Because it is a hardwood, it is extremely durable and will maintain its beauty for years to come. It takes a variety of finishes very well or it can be left to weather on its own.
Knotty Cedar

Knotty cedar is a beautiful and durable addition to your outdoor environment. It's rustic look enhances your home's exterior with a rich, wood planking appearance. It is sanded smooth and, as all of our decking, comes in 5/4 x 6 radiused edge boards. Our knotty cedar is graded STK. This stands for "Select Tight Knot", which means the knots are not going to fall out and leave you with a hole in your deck. With the proper treatment, your cedar deck will last 25-30 years.
Synthetic Decking

There are many synthetic decking and railing materials available from which to choose. As with any building material, there are some good ones and some not-so-good ones. To make it even more confusing, new products are seemingly coming out every week. A few that we use are Trex, TimberTech, Azek and Evergrain.
There are many other choices available. If you have a specific brand in mind, we would be happy to give you a quote for it.

~New Deck With Hot Tub and Storage Room~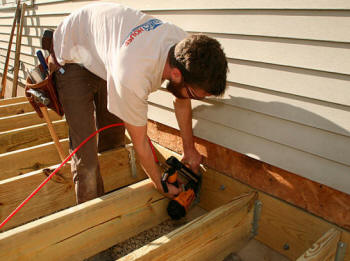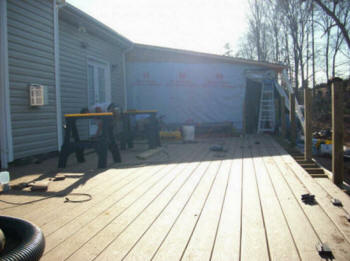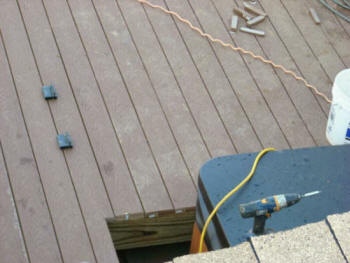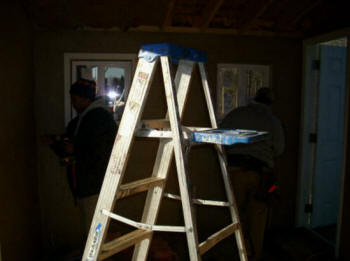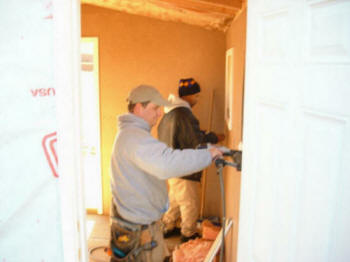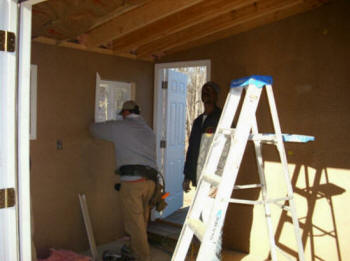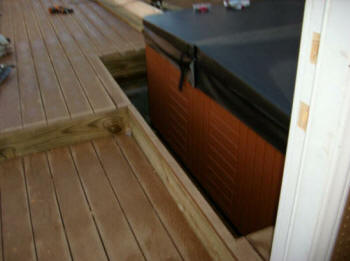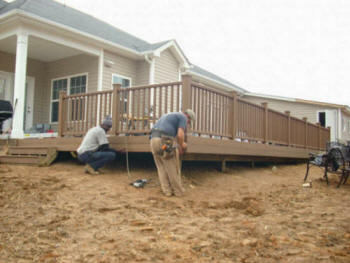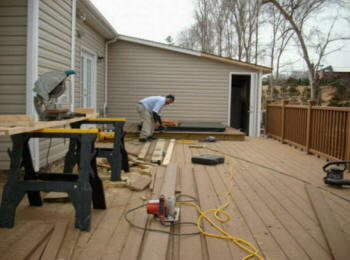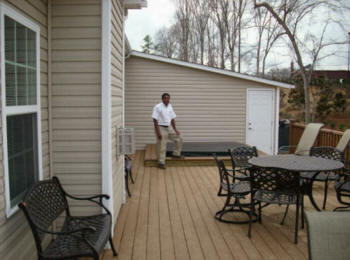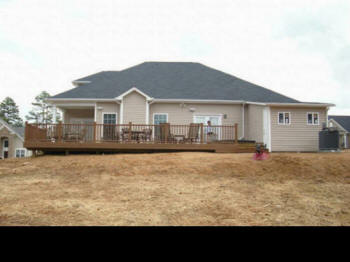 Gallery PORCHES-DECKS1 PORCHES-DECKS2 PORCHES-DECKS3
PORCHES-DECKS4 PORCHES-DECKS5 PORCHES-DECKS6
PORCHES-DECKS7 PORCHES-DECKS8
"Q. How do you offer so many Services?
A. We are a Company of Contractors-Tradesmen & Designers,"
Home About us Master Plans Career's Design/Build Terms of Use Contact us Feed Back Links Links

Providing Services: Allen NC Allison Ferry NC Atando Junction NC Caldwell NC Huntersville NC Chemway NC Cornelius NC Cowans Ford NC Croft NC Davidson NC Derita NC Dixie NC Grove Park NC Hebron NC Hickory Grove NC Hicks Crossroads NC Homestead NC Hoods NC Hopewell NC Huntersville NC Idlewild NC Joplor NC Junker NC Marlwood Acre NC Matthews NC Mint Hill NC Newell NC Oakdale NC Olde Providence NC Paw Creek NC Pine Harbor NC Pine Ridge NC Pineville NC Providence NC Rama NC Rhyne NC Sharonbrook NC Shopton NC Shuffletown NC Smithville NC Sodyeco NC Sterling NC Toddville NC Tuckaway Park NC Wilgrove NC 28201 28202 28203 28204 28205 28206 28207 28208 28209 28210 28211 28212 28213 28214 28215 28216 28217 28218 28219 28220 28221 28222 28223 28224 28226 28227 28228 28229 28230 28231 28232 28233 28234 28235 28236 28237 28241 28242 28243 28244 28246 28247 28250 28253 28254 28255 28256 28258 28260 28262 28263 28265 28266 28269 28270 28271 28272 28273 28274 28275 28277 28278 28280 28281 28282 28284 28285 28287 28288 28289 28290 28296 28297 28299 28031 28035 28036 28070 28078 28105 28106 28227 28126 28130 28134
Huntersville NC Decks Builders FREE Quote ➨ Repair Huntersville NC Deck Stain Seal